Healthy Smiles for ME, Inc.    




Helping Maine Children





  One Smile at a time!
Healthy Smiles for ME, Inc. was organized in 2009 from a generous donation from Brooks Family Foundation.

Since 2001 Maine has allowed Dental Hygienists to provide preventive dental care under Public Health Supervision to underserved populations.

T.F.I. aka: Tooth Fairies are a group of Dental Hygienists that are equipped with portable equipment allowing us to provide quality care in almost any location.  

T.F.I. provides services at a reduced rate for families who do not qualify for MaineCare and do not have private dental insurance.  Children who are not going to the dentist for financial reasons are able to access preventive care in school.  

Our mission is to reach those children who need us the most.  We work closely with  school nurse's  to identify those children with dental needs.  When a child is identified with emergent needs we will coordinate  treatment with a dental office.  If it is determined that the family cannot afford to pay for the treatment needed, Healthy Smiles for Me, Inc. can help the child receive the needed services.  Healthy Smiles for ME, Inc. will pay the provider for services  

We have networked with several dental offices who have agreed to see children at a reduced rate, the bill for the service is paid with funds raised for Healthy Smiles for ME, Inc.  

Funding has been made possible by generous donations from private foundations.  Brooks Family Foundation, Walmart State Giving, Stephen and Tabitha Foundation, Lewiston Auburn Children's Foundation and many silent donors.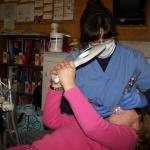 501c3 Non Profit

All donations are tax deductible.